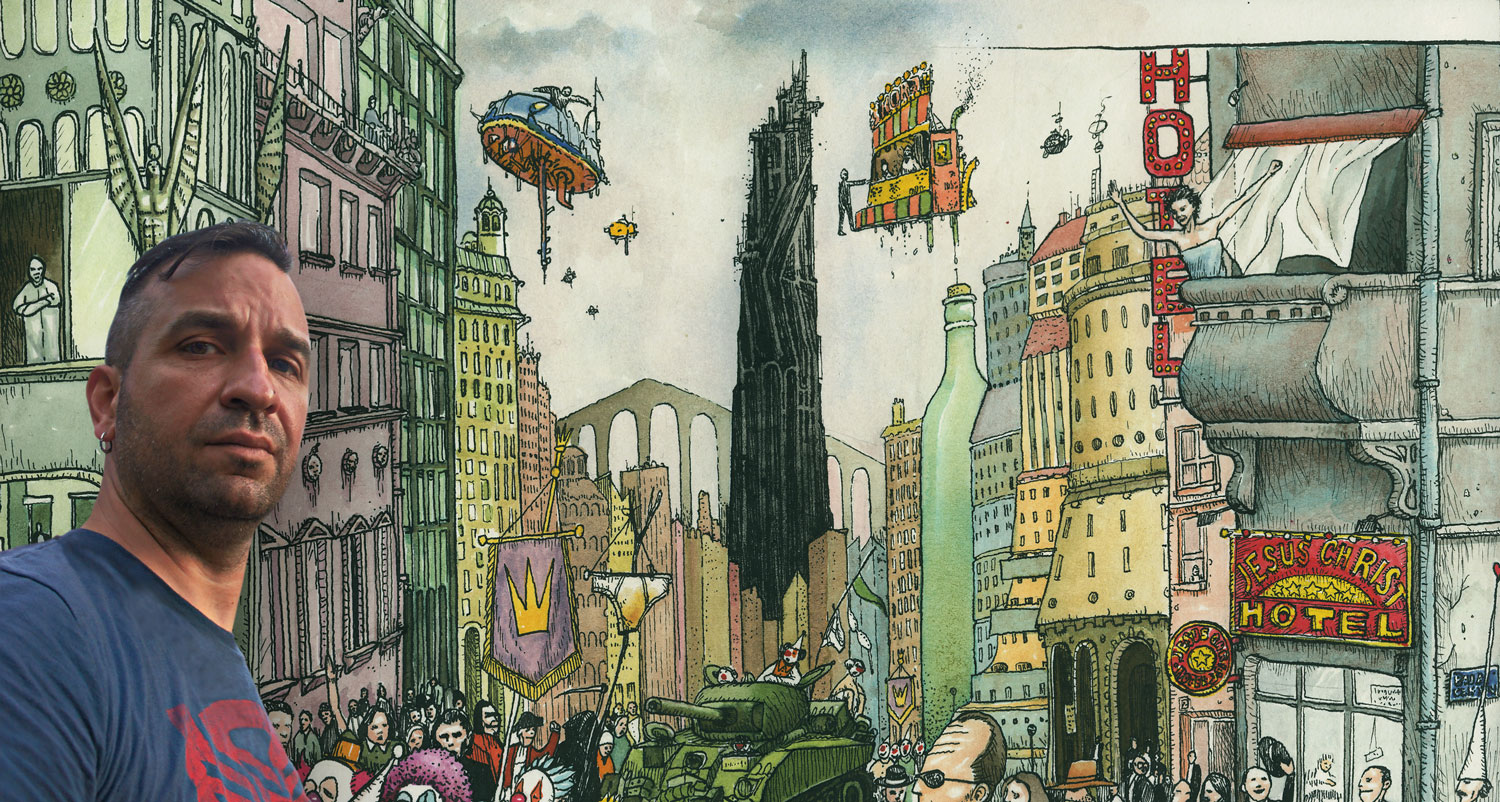 Nemanja Moravic Balkanski
Nemanja was born on November 14, 1975 in Belgrade, Serbia. He grew up in a family of five and endured hard and poor times. It was during these challenging times that Nemanja discovered his passion for the arts. Thanks to his strong imagination, he was always able to find a way to express his talents, even under the harshest conditions. As a young adult, he entered a School of Design in Belgrade and successfully completed the four-year course of study in Graphic Design. After serving fourteen months in the army as a mandatory parachute-trooper, he enrolled at The Academy of Fine Arts – Department of Graphics in Belgrade. By the fourth year, Nemanja left the academy, unhappy with their state of affairs. In 1998 he decided to shift gears and try a new passion. He enrolled at the Academic Theatre Branko Krsmanovic as an actor. He performed for the next few years and landed sizeable roles in shows: The Nose, Circo Mortale, Live Actors etc. It was during this time he created the majority of his comic books. In 1999 he participated in the comic book exhibition "Fanzinijada" at the Student's Cultural Center in Belgrade where he was awarded for the best comic book. In that same year he created and transformed an empty building into what was one of Belgrade's legendary clubs "Republica de Banana". In 2002 he wrote a book of underground poetry "Ispovjed jednog ocajnika" and published it independently in a volume of five unique copies. In the summer of 2005 he furthered his creative ambitions by putting together a number of fake news stories that he had been exchanging with his friend Vladimir Protic, into a book called "Telex". The book was later published in 2006. The piece was hailed by critics and became well known as a masterpiece in the Serbian underground scene of today.
Feeling he needed a new and fresh environment to further his talents, Nemanja immigrated to Canada. In 2007 he enrolled at the Vancouver Film School, department of Film Production. He was selected to direct for Final Project the short film "Corpses" based off of a script that he wrote earlier in the semester. Soon after his graduation in 2008, he was hired by one of his professors to work for the production company "Universal", drawing story boards for the movie "Slap Shot 3". In 2011, he published the graphic novel "FIB Chronicle" for the Vancouver publisher "The Publishing Eye". In 2015, he published his second graphic novel "The Deliverer" for the same publisher. In 2016. "The Deliverer" was nominated for Joe Shuster Award in Gene Day category. Currently, he works as a graphic designer and story board artist. He is finishing his new graphic novels "Cola-Teral" and "Joomboos Gun".
Nemanja currently lives in Vancouver, British Columbia.